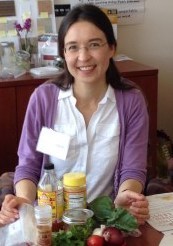 Hello and welcome! My name is Nataliya. I'm a Holistic Nutrition Consultant, Health and Wellness Coach, and Yoga teacher.
A nutritious and balanced diet and a health-supporting lifestyle are linked to better overall health and wellbeing. The food and beverage choices, as well as the lifestyle preferences, can affect one's weight, energy level, physical and mental performance, mood, memory, relationships, as well as perceived quality of life (USDHHS, n.d.)
I educate clients about the scientific benefits of whole foods, plant-based nutrition, and health-supporting lifestyle choices. As a Health Coach, I  support client with making healthy lifestyle changes in the area of nutrition,  physical activity, stress, sleep, social wellness, work-life balance,  and reduction of toxic exposures.  Also, I enjoy researching the recent scientific updates about foods, nutrients, and lifestyle modifications and sharing them with my clients. 
I currently offer these services:
Holistic Nutrition and Lifestyle Consultations or
Health and Wellness Coaching 
The initial discovery session is FREE of charge- schedule your free discussion here
For more information, visit my profile
California consumers: Please read  California Nutrition Practice Notice for Consumers 
Disclaimer: Please, note that as a Nutrition Consultant, Health/Wellness Coach, and Yoga instructor, I do not diagnose, treat, prevent, mitigate, manage, or cure any specific physical or mental health condition. Also, I do not prescribe any specific dietary or lifestyle modifications, supplements, foods, food products, or beverages. I educate about the scientifically discovered benefits of whole foods, plant-based nutrition, and other generally beneficial lifestyle choices. My services are solely educational and informational in nature, never intended to delay or partially or fully replace the appropriate evaluation and treatment by a licensed primary care provider. Health Coaching services can be beneficial if they are complementary to the traditional medical services.  If you have or suspect any physical or mental health issues, you need to see a licensed healthcare provider for appropriate evaluation, diagnosis, and treatment and follow their  recommendations. Booking my services indicates your understanding and acceptance of these terms. 
My academic background:
Master of Science in Holistic Nutrition (summa cum laude), 2017-2019. American College of Healthcare Sciences
Master of Science in Health and Wellness (summa cum laude), 2020-2021. American College of Healthcare Sciences.
Doctor of Medicine, St.-Petersburg, Russia (passed USMLE Step 1, 2, 3 and CSA – not fully licensed in the U.S. to practice medicine)
Certifications:
Board Certified Health and Wellness Coach by NBHWC, 2021.
Health and Wellness Coach. Wellcoaches, 2021.
Master Health Coach. Advanced Coaching Training and Techniques, Dr. Sears Wellness Institute, 2022.
Lifestyle Medicine Coach. American College of Lifestyle Medicine, 2021. 
Graduate Certificate in Health and Wellness Coaching, 2017-2019. ACHS.
Certificates: Yoga, Holistic Nutrition
Board Certified by Holistic Nutrition 2012-2020 
More about my past:
My first professional choice was allopathic medicine: I graduated from Pediatric Medical Academy in Saint-Petersburg, worked as a medical doctor in Moscow and as a medical resident at Charles Drew University of Medicine and Science in Los Angeles, CA. I'm not licensed in the U.S. to practice medicine,  and  as Health Coach or Nutrition Consultant, I do not treat, diagnose, cure, mitigate, or prevent any health issues.
Holistic practices like Yoga, Nutrition, Health, and Wellness have been my passions and way of living since my early years. In 2012, I became a Certified Holistic Nutrition Consultant as a graduate of Bauman College of Holistic Nutrition and Culinary Arts, and in 2013 – Board Certified in Holistic Nutrition by NANP (National Association of Nutrition Professionals). Additionally, I completed several Yoga teacher trainings. In 2012 -2017, I taught group classes on nutrition and wellness at Bauman college and local communities. In 2017-2021, I was attending graduate school focusing on Holistic Nutrition and Health. I have been consulting individuals on nutrition and wellness since 2011. 
My personal and professional Yoga practice is based on the teachings of B.K.S. Iyengar. I customize yoga practice to make it gentle and approachable for the majority of people. I teach my clients how they can adapt Yoga practices of their choice to their individual abilities so they can consistently get the most comfortable and safe experience from their practice. I'm also certified by Elise B. Miller, a Senior Certified Iyengar Yoga Teacher.
Contact me today! 
Nataliya
References:
Harvard T.H. Chan School of Public Health. (2020). The Nutrition Source. Retrieved from https://www.hsph.harvard.edu/nutritionsource/
Health.gov (2020). Nutrition and Health are Closely Related. Retrieved from https://health.gov/our-work/food-nutrition/2015-2020-dietary-guidelines/guidelines/introduction/nutrition-and-health-are-closely-related/
Sage Journals. (2020). Nutrition and Health. Retrieved from https://journals.sagepub.com/home/nah
U.S. Department of Health and Human Services (USDHHS). (n.d.) Eat Healthy. Retrieved from https://www.hhs.gov/fitness/eat-healthy/index.html