Today, I was making a room spray with the essential oils. Next time when there is a cold or flu lurking around, the essential oils can help to cleanse and sanitize the air.* Many studies have documented the antibacterial, antifungal, antiviral, and antiparasitic qualities of the pure, unadulterated essential oils (Elshafie & Camele, 2017; Nieto et al., 2016; Sadlon & Lamson, 2010)*.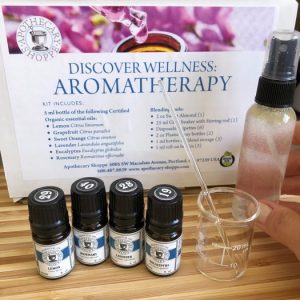 The essential oils, also known as volatile oils, are the natural and concentrated extracts. They are derived from the plants (flowers, leaves, barks, stems, seeds, berries, resins, or roots). The steam distillation, hydro-distillation, hydro-diffusion, or solvent extraction can be used to extract the essential oils. The composition of the essential oils is complex and consists mostly of synergistically acting terpenes, terpenoids (phenols, alcohols, aldehydes, ketones, or ethers) and aromatic compounds (Man et al., 2019).
Making a room spray takes only a few minutes. You will need the following equipment (ACHS, n.d.):
The essential oils – several drops (see below the general recommendations for the dilution)
The empty spray bottle ( I like to use the 1-2 oz bottles to make small batches)
The solvents such as alcohol, glycerine, water, or vinegar
A cylinder and rod for mixing
A pipette (for accurate drop count)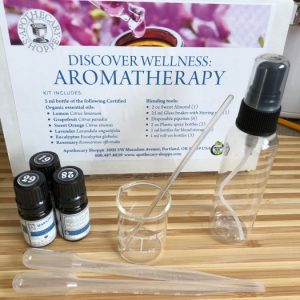 Because pure essential oils are very highly concentrated, they have to be diluted! For example, the general safety guidelines recommend diluting the pure essential oils until the final product contains only up to 4% of the essential oil. It means to use up to 6 to 24 drops of the essential oil per 1 ounce of solvent or 12-48 drops – per 2 ounces of solvent (ACHS, 2019; NAHA, 2019). A little amount literally goes a long way!
Additionally, the higher the quality of the essential oils, the better! Remember that you will be inhaling and absorbing all of the constituents of the essential oils into your body (Herman & Herman, 2015). Organic or wild-crafted 100% pure essential oils are the best, and their aroma is irresistible. Moreover, the pure, unadulterated essential oils can have a different effect on the body (Boren et al., 2015).*
Book your holistic nutrition and lifestyle consultation or health coaching session today! The initial 20-minute exploration session is free of charge.
Nataliya.
References:
American College of Healthcare Sciences (ACHS). (2019). Three common and dangerous essential oil mistakes. Retrieved from http://info.achs.edu/blog/aromatherapy-essential-oil-dangers-and-safety
ACHS. (n.d.). Three irresistible recipes for the aromatherapy body spray. Retrieved from http://info.achs.edu/blog/natural-holiday-perfumes-sprays-essential-oils
Boren, K. E., Young, D. G., Woolley, C. L., Smith, B. L., & Carlson, R. E. (2015). Detecting Essential Oil Adulteration. Journal of Environmental Analytical Chemistry, 2:132. doi: 10.4172/2380-2391.1000132
Elshafie, H. S., & Camele, I. (2017). An Overview of the Biological Effects of Some Mediterranean Essential Oils on Human Health. BioMed Research International, 2017, 9268468. doi:10.1155/2017/9268468
Herman, A. & Herman, A. P. (2015), Essential oils for transdermal drug delivery. Journal of Pharmacy and Pharmacology, 67: 473-485. doi:10.1111/jphp.12334
Man, A., Santacroce, L., Jacob, R., Mare, A., & Man, L. (2019). Antimicrobial Activity of Six Essential Oils Against a Group of Human Pathogens: A Comparative Study. Pathogens (Basel, Switzerland), 8(1), 15. doi:10.3390/pathogens8010015
NAHA. (2019). Safety information. Retrieved from https://naha.org/explore-aromatherapy/safety
Nieto, G., Ros, G., & Castillo, J. (2018). Antioxidant and Antimicrobial Properties of Rosemary (Rosmarinus officinalis, L.): A Review. Medicines (Basel, Switzerland), 5(3), 98. doi:10.3390/medicines5030098
Sadlon, A. E., & Lamson, D. W. (2010). Immune-Modifying and Antimicrobial Effects of Eucalyptus Oil and Simple Inhalation Devices. Alternative Medicine Review, 15(1): 33-47. Retrieved from http://archive.foundationalmedicinereview.com/publications/15/1/33.pdf
* These statements have not been evaluated by the Food and Drug Administration. These products are not intended to diagnose, treat, cure, or prevent any disease. This information is for educational purposes only.