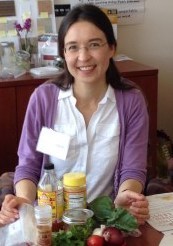 Hello! My name is Nataliya.
My Holistic Nutrition and Wellness Coaching practice includes teaching about the whole, seasonal, organic foods, and holistic lifestyle and developing personalized food, lifestyle, and self-care programs.
I hold a Master of Science Degree in Holistic Nutrition as well as a Graduate Certificate in Wellness Coaching from the American College of Healthcare Sciences.
I help my clients to reach their wellness goals, feel and look better, have more energy, and lose weight. I teach individuals how they can adapt the meal plans or recipes to their preferences in tastes, textures, flavors, as well as their desired body composition.
The focus of my work is general wellbeing, optimal digestion, weight, nutrient absorption, and metabolism. I like the challenge of working with different dietary and lifestyle preferences and help my clients to customize their choices to get the most nutritional value and the best results.
Together, we can go for the shopping tours, explore the healthiest and most delicious options at the local stores, and discuss the food preparation and menu planning options. I enjoy researching the recent scientific updates about foods and nutrients and sharing them with my clients. In addition to working one-on-one, I'm available to teach Holistic Nutrition and Lifestyle classes for the groups of people interested in healthy nutrition and lifestyle.
More about my past:
My first professional choice was allopathic medicine: I graduated from Pediatric Medical Academy in Saint-Petersburg, worked as a medical doctor in Moscow, and as a medical resident at Charles Drew University of Medicine and Science in Los Angeles, CA (I'm not licensed in the U.S. to practice medicine, and I do not treat, diagnose, cure, mitigate, or prevent any health issues). Holistic practices like Yoga and Nutrition have been my passion and way of living since the early years and they eventually became my main occupation.
In 2012, I became a Certified Holistic Nutrition Consultant as a graduate of Bauman College of Holistic Nutrition and Culinary Arts, and in 2013 – Board Certified in Holistic Nutrition by NANP (National Association of Nutrition Professionals). Additionally, I studied Ayurvedic Wellness at the Kerala Ayurveda Academy, Natural Health at Trinity School, and completed several Yoga teacher trainings.
My personal and professional Yoga practice is based on the teachings of B.K.S. Iyengar. I customize yoga practice to make it gentle and approachable for the majority of people. I teach my clients how they can adapt Yoga practices of their choice to their individual abilities so they can consistently get the most comfortable and safe experience from their practice. I'm certified in Yoga for Scoliosis by Elise B. Miller, a Senior Certified Iyengar Yoga Teacher.
Contact me today and let us discuss your nutrition and health goals!
The initial discovery session and discussion of your nutrition and lifestyle goals is FREE of charge.
Let us know which questions, concerns, or topics you would like to discuss.