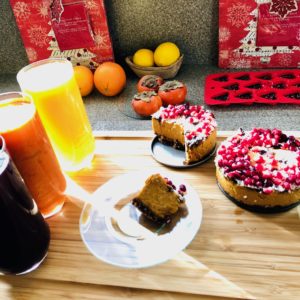 Happy New Year to everyone I know and don't know yet!
Have you counted all the blessings that you have experienced in the 2018?
When I reflect on the passing 2018, I remember so many wonderful events and supportive people! Thank you all so much, you shaped my life, and I feel so grateful!
My wishes for you is to have a wonderful New 2019 Year! May it be bright, colorful, energizing, and filled with lots of smiles, laughs, support, blessings, and love!
To celebrate the transition, I prepared the raw vegan pumpkin mini-pies, carrot and orange juices, and fermented beet kvass (the recipes are coming soon). Cheers!
As always, I'm happy to hear from you – your questions, ideas, recipes, comments, etc.
See you in the 2019! 🙂
Nataliya.