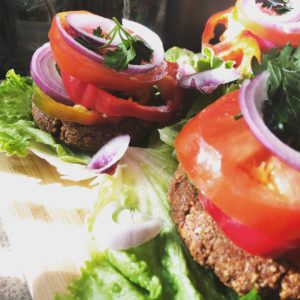 I'm excited to finally share with you a very delicious recipe: Raw Vegan "Burgers"!
I made them for the first time around Thanksgiving holiday, and later I experimented with the recipe and tried a few different versions of it.
The bottom line: these "burgers" do not have any animal ingredients, so please do not expect that the taste and texture will be just as it usually is in an animal-based product.
However, these vegan "burgers" are still super delicious, satisfying, filling, and quite addictive in a good way (meaning that it could be difficult to stop after eating just one "burger"). The recommended serving size for this recipe is about 2 or 3 "burgers", depending on their size, so it means you can eat more than one!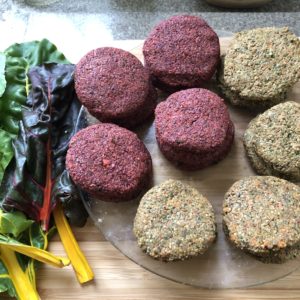 I just wanted to mentioned one more thing: some people pay attention to the color of the vegan "burger", and, as I learned, it mostly depends on the ingredients that you use.
This recipe will have a brownish-reddish-purple color because of the beets, and if you decided to replace the beets with a green vegetable (such as celery), the color of your product will be brownish-green. As you can see on this picture, the colors are different, but the taste and texture will be similar.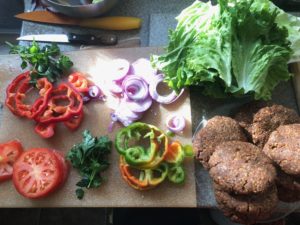 What you will need:
Ingredients:

nuts, seeds, vegetables, herbs, and spices.

Equipment:

a knife, cutting board, food processor (I like Cuisinart), a large mixing bowl.
Method of preparation:
Process the nuts and seeds into a fine powder.
Process the vegetables and herbs into a smooth mass.
Combine the dry and wet ingredients, form patties, and assemble them into a "burger" meal.
The whole process takes about 15-20 minutes.
Download a full recipe here: Burgers raw and vegan
Ingredients:
1 cup walnuts
2 cups sunflower seeds
1 stalk celery, chopped (1/2 cup)
1 small beet, chopped (1/2 cup)
1 carrot, chopped (1 cup)
1 small handful parsley, chopped
2 Tbs ground flax seeds
3 Tbs nutritional yeast
2 Tbs dried herbs (Italian seasoning)
Optional: 1/16 tsp sea salt
Yield: 5 cups or 9 burgers, Serving size: 2-3 "burgers"
Method of preparation:
Process spices, nuts, and seeds in a food processor into a powder and set aside in a large mixing bowl.
Process all vegetables and fresh herbs in food processor into a smooth mass.
In a large mixing bowl, combine processed dried and wet ingredients using a large spoon or your hands, until it becomes a homogenous mass (if it is too wet, add more of the dried ingredients such as extra powdered nuts or seeds). The final texture should be not too soft or too wet.
Measure about 1/2 cup of the mixture to make one patty.
To serve, place a patty on a lettuce or cabbage leaf, and decorate with slices of bell peppers, tomatoes, onions, and parsley.
Store in a refrigerator for up to 3 days, freeze up to 2 weeks, or serve immediately and enjoy!
Finally, I'm including my quick video with some ideas on how to make a "burger" meal and serve it in a beautiful and delicious way. Hope you find it helpful.
The inspiration for this recipe came from the book by Baird and Rodwell (referenced below).
Bon appetit and happy holidays!
Nataliya.
References:
Baird, L. & Rodwel, J. (2005). The Complete Book of Raw Food. Healthy Living Books: New York, NY