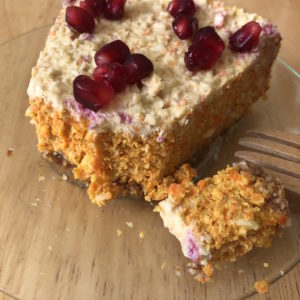 Today I'd like to talk about desserts. What is your favorite one for the upcoming holiday season?
My all-time favorite is a cheesecake. Feeling inspired by many raw vegan foodies, I have experimented with many versions of it.
This is my most recent version: Carrot Cheesecake. I got my inspiration from amazingly delicious desserts made at Que SeRaw SeRaw cafe.
I used dates, almonds, and coconut for the crust.
The filling had carrots, dates, lemon, coconut, and cashews. For the frosting, cashews and coconut worked wonders.
It turned out very delicious!
I'll post the recipe with the method of preparation soon. Stay tuned 🙂
Happy Holidays!
Nataliya.